&nbsp
Unlike Anything You Have Ever Seen
EverGlow® markings are produced in Germany by a patented, proprietary method that provides superior photoluminescent properties. The result is quality photoluminescent safety markings unlike any other product. Move your mouse onto the image to see for yourself!
---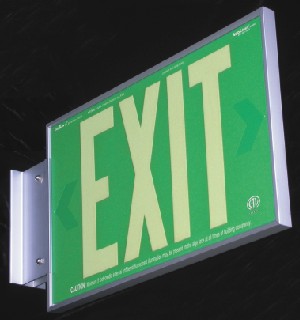 CHOICE™ EXIT Sign
The CHOICE™ Exit Sign is listed compliant to UL® 924 by ETL®. It is a non-electrical, continuous payback solution for your facilities. Plastic free aluminum construction is certified non-combustible. Satin finish aluminum frames available for wall mounting with custom brackets for flag or ceiling counting. The CHOICE EXIT sign is available with green, red, or black background with mounting hardware and your choice of directional indicators.
---
Stay Put™ Tape
Unique new Stay-Put™ photoluminescent tape is a cast polymer film best described as paint on a roll. The peel and stick vinyl-free construction is conformable, durable, and permanent adhesion with no lifting. Easily glows overnight and recharges with light. The glow is warranted for 25 years. Available in full glow or hazard stripe, Stay-Put tape is excellent for marking stairs, pathways, handrails, and fixed or movable hazards.
---
Exclusive Stair Marker
The High Intensity EverGlow® Photoluminescent aluminum stair marker is adhesive backed. Placed at the outer edges of each stair tread, the marker gives full guidance in existing stairways without adding a new trip hazard. The markers glow for 68 hours and recharge indefinitely. Reduce panic and stress during a power failure with visible pathways to safety. Used in major commercial and office buildings. EverGlowHi material is explosion proof, maintenance free, and never wears out. Click here to see the Stair Marker in Action.
---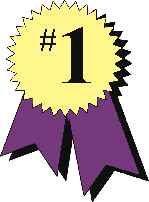 Award Winning Products
ADDLight wins Annual Best In Category for Signs/Warning Equipment Presented by Compliance Magazine at National Safety Council Expo 2000.
---
&nbsp